4 website costs to consider when setting a budget for your business site
Building a website for your small business is arguably one of the most important projects you'll undertake. While in an ideal world your available resources wouldn't be a factor, in reality your budget is likely to loom large over any decisions you make. You'll be looking at website costs as you set out to create a site for your business.
It doesn't help that it's difficult to find guidance on the financial aspect of creating a website, since many writers prefer to cover the more interesting development phase. Fortunately, it is possible to find reliable information on the various website costs involved, so you can forge ahead with confidence.
In this post, we'll point you in the right direction by offering four financial factors to consider when creating a small business website. But first, let's talk about the importance of budgeting!
Why setting a budget is crucial (and what to do before you start)
Setting a budget is a good idea in any business venture, and your website is no exception. Determining your expected website costs helps you plan ahead for your site's development, which can save you a lot of money. A budget can also focus your decisions about what tools to use and features to include.
For even more control over the process of building your site, you might want to implement a pre-planning stage before even cracking open the ledger.
This means devising a roadmap for development, considering how scalability could affect your budget, and deciding how heavily you'll want to rely on subscription solutions.
4 website costs to consider
Once you have a solid idea of what your site will look like, how big it will be, and how you'll go about creating it, you're ready to jump into the budgeting stage. There's a lot to explore, but the following four website costs should be your top priorities.
Domain.

Website hosting.

Hiring a developer.

WordPress themes and plugins.
Let's dive in!
1. The cost of your domain
For many, choosing and buying a domain is as simple as taking your business name, adding a .com to it, and sitting back: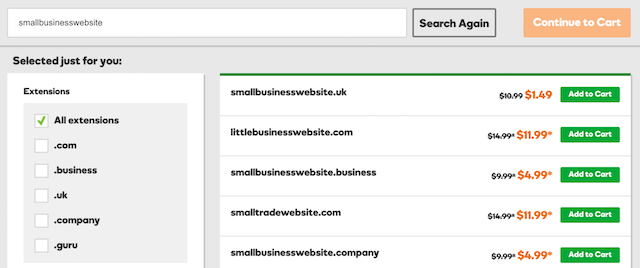 However, there are a few reasons you might want to leave room in the budget to purchase multiple versions of your domain. Most compellingly, you can discourage "domain squatters," and create country- or area-specific versions of your website.
Consider also that domain costs depend on your industry. For example, a tech company that wants to buy an .io domain will end up paying more than an eCommerce business buying a .shop domain. On the other hand, multi-year purchases might net you a discount, which could become cost-effective over the long term.
Our advice is to weigh the cost of your chosen top-level domain versus its potential benefit to your branding (and the same goes for additional domains).
2. Your hosting requirements
Choosing a web host is a key decision, and in an ideal world it isn't something you should skimp on. After all, your host will do a lot to determine how well your site performs. However, there are a number of factors to consider that could impact your costs, including:
In addition, if you're thinking of implementing a Content Delivery Network (CDN), the costs are notoriously complex and difficult to work out: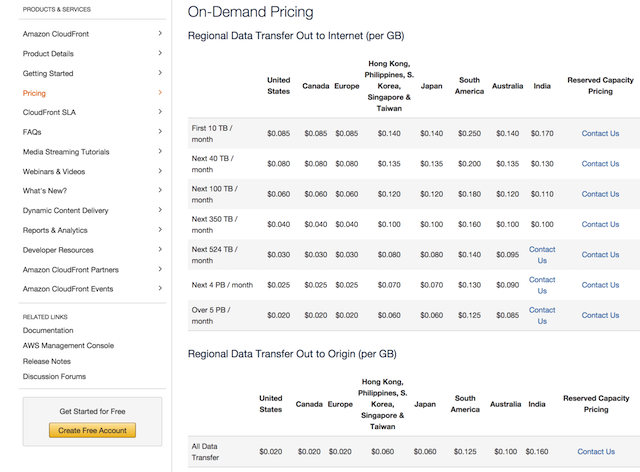 It's a good idea to keep an eye on your budget when nailing down your requirements and figuring out what functionality you need (SSL certificates, for example). Then narrow down your choices based on your allocated funds, making compromises where necessary.
3. The price of hiring a developer
If you choose to outsource the work of building your website, you'll have to carefully consider the designer or agency you employ. Picking one who knows what they're doing is vital, since getting it wrong is essentially money down the drain.
You're likely to see a wide variation in potential costs here, since developer rates are based on a number of different factors. The most pertinent are:
The designer's quality and current demand.
The industry you're in.
The functionality you require, and the deliverables you're expecting.
You'll need to carefully consider your budget, and take steps to get the most value possible for your money.
Think hard before skimping too much in this area, though, as you do typically get what you pay for. Since your developer's skills will directly impact the end result, choosing the right one is crucial.
4. The theme and plugins you use
If you choose a content management system such as WordPress, you'll also need to factor in theme and plugin costs. The first step is to nail down the functionality you require based on your design needs before shopping around.
Themes can be obtained from a number of outlets: premium theme shops like ThemeForest, for example, and free repositories such as the WordPress.org Theme Directory: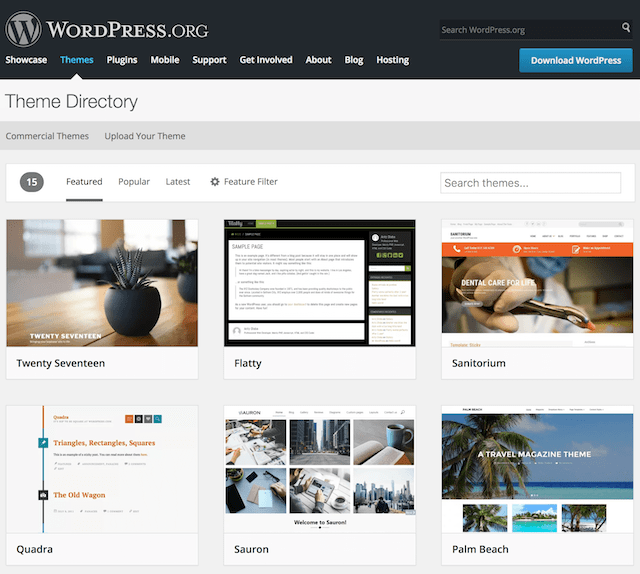 While free themes can be ideal, you'll often find premium versions are more robust and offer dedicated support. If you have the resources to spare, you could also consider a custom theme.
Plugins will be less of a concern, as many essential options are free to download and use. Still, premium versions can certainly be worth the extra outlay if you need the functionality they provide.
Conclusion
Although websites costs shouldn't be the driving factor in how you choose to build a site, your available cash flow does play a role to play in the success of your small business website. We've offered four key areas you'll need to carefully consider when setting your budget:
Your choice of domain (especially the top-level domain you select).
The web host you opt for.
Whether you choose a designer, or handle the development in-house.
Any themes and plugins you choose (if you're opting for a content management system such as WordPress).
Start budgeting, and prepare to build a website that delivers results for your business!
Image by: edinburghcityofprint via Visualhunt.com / CC BY