What's new in Online Store Builder
As we continue to move through 2021, GoDaddy's Online Store Builder continues to grow and gain new features along the way. In this guide, we're going to cover these updates and show you how they can help your business grow as well.
What's new in Online Store Builder
Here's a list of the new features and options available for Online Store Builder customers:
Updates as of June 24, 2021:
Updates as of May 21, 2021:
Updates as of March 30, 2021:
Ready to explore? Let's dive in.
Reconnect with Facebook Booking
Online Store Builder has received upgrades to its connection with Facebook Booking. As such, if your site uses Facebook Booking, you will need to reconnect to that service from inside your Online Store account if you'd like to continue to use it.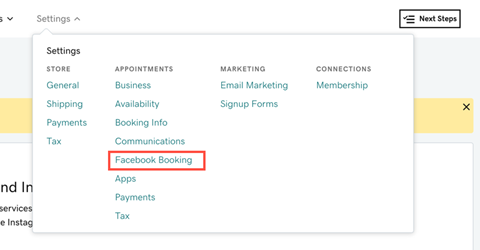 Book multiple services with Online Appointments
Your customers can now book multiple services in a single purchase. Previously, customers were only able to book one appointment at a time. With recent cart upgrades, however, your customer can book multiple types of appointments or multiple appointments in the same series.
Note: If you aren't seeing the option to add multiple appointments on your live site, then you will need to republish your site to make this feature live.
Share products on social media
Online Store Builder now allows you to easily share your products directly to multiple social media platforms.

Promoting your products on each of the different social media platforms will help increase your product visibility. It's free marketing and can help reach potential shoppers.
Pro tip: Make sure to have enticing images of your products to post so that you'll look your best on social media.
Related: Kill it on social with GoDaddy Studio
More options for displaying similar products
We've also expanded the eligibility of how similar products get displayed in the "You May Also Like" section.

Previously, only products within the same sub-category were qualified to be displayed in the "You May Also Like" section. Now, products within the same parent category are displayed in the "You May Also Like" section. This increases the chance of product visibility.
Carousel option for Featured Products
Also new is a carousel option for Featured Products, bringing the layout options up to three total.

Having additional options for displaying Featured Products allows you to better fit the section to your overall website theme.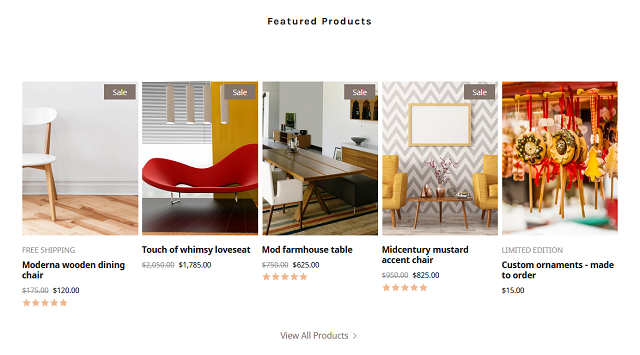 Easily access online store options from the editor
Now our Online Store Builder allows you to easily access store actions from the editor. Previously, that particular option was buried within the Store and Featured Products section settings.

New countdown timer
We've also added a countdown timer option for Online Store Builder. This feature is a fun way to add a visually appealing countdown timer for new products, sales, events, etc.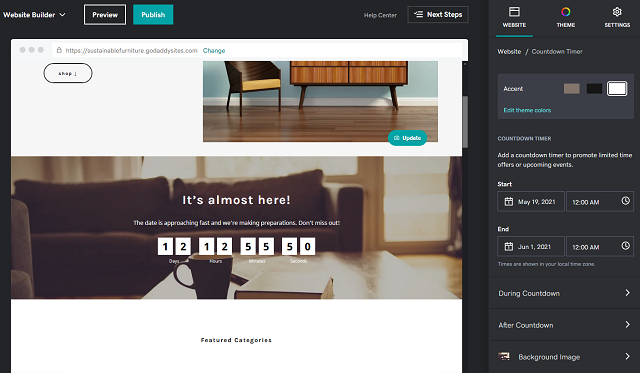 Improved order management
Also updated for Online Store customers, you can now more effectively manage orders, specifically payment status and fulfillment status. Also, additional tabs are displayed for easier management by delivery types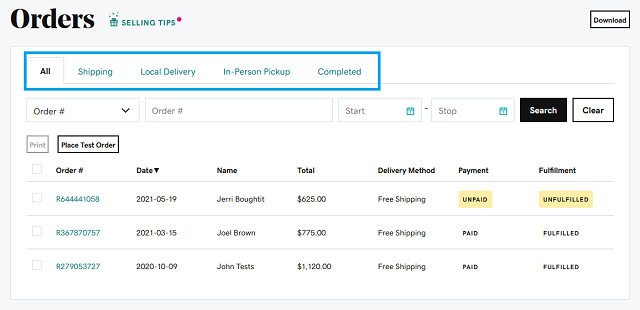 Previously, payment and fulfillment options were tied together. Now, these options can be modified separately to allow for better order management.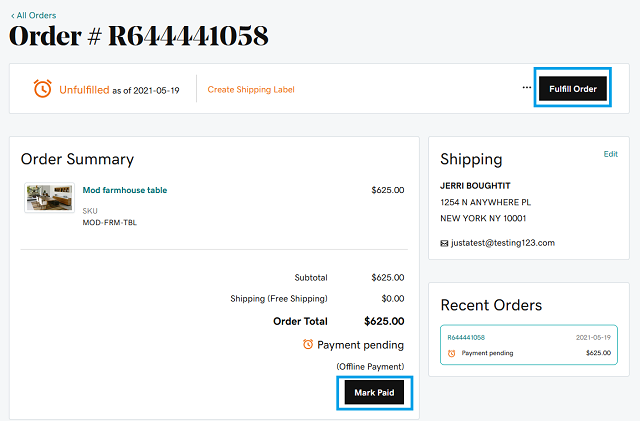 Share your products on social media
More people around the world are using mobile devices to access the internet, with an expected 3.8 billion users by 2021. And in turn, these users are increasingly turning to social media for finding new products to purchase.
What better way to capture new customers than to share posts of your products on social media?
Pro tip: Since both Facebook and Instagram are very visual sites, we recommend using enticing images for your products to attract buyers.
To get started with this feature, you'll want to select the Social option in the Marketing dropdown menu from your Online Store Builder dashboard.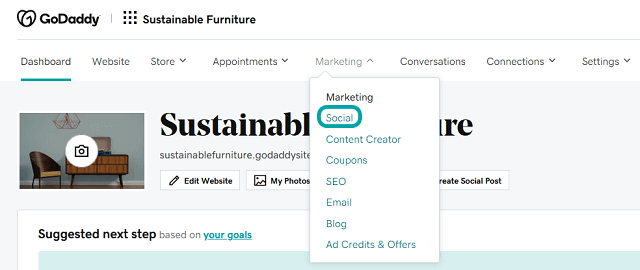 Once there, you can either choose to start from scratch with a new post, or you can choose one of the themed options available.

If you choose the Start from Scratch option, you can add your products at the bottom of the post creation page.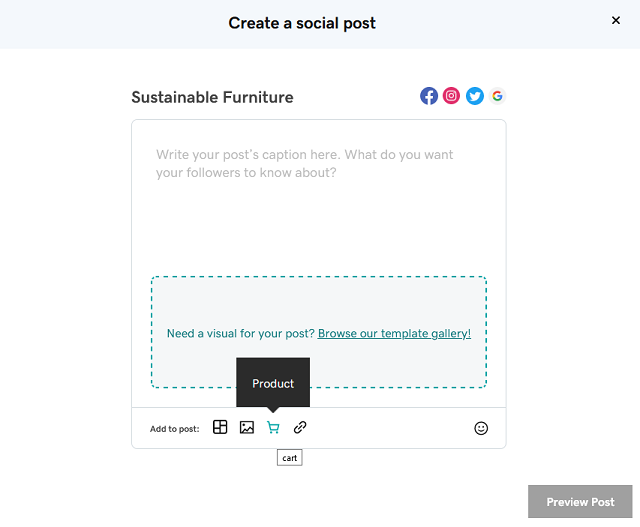 After you've created your post content, you'll have the option to share to any of your connected social media accounts. And that's it! Your post is then shared to your followers.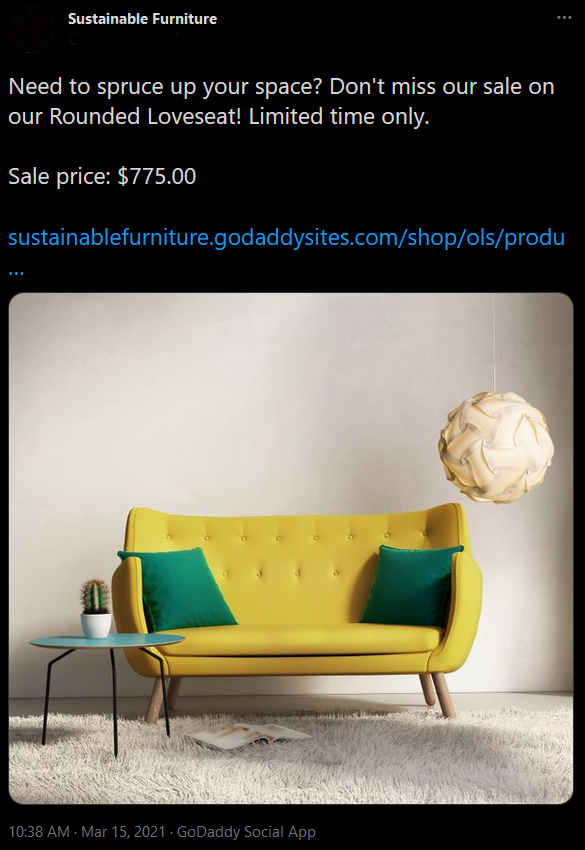 Promote your paid services to social media
If your business is service-based instead of product-based, you can also promote your services directly to social media.
In the Online Store Builder dashboard, select Services under the Appointments menu.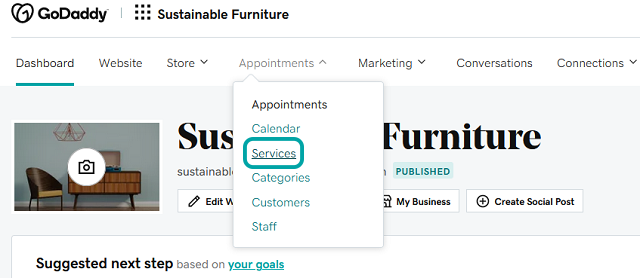 Once there, you can select the service that you'd like to share from the menu to the right.
From there, you'll see the Create a social post popup.
Zoom and Calendar Sync options available under Online Appointments
You'll now be able to find both Zoom and Calendar Sync under your Apps option in the Settings menu in your dashboard.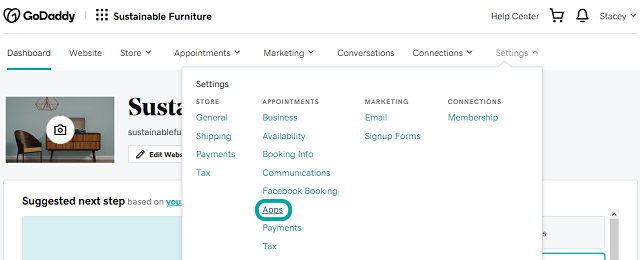 On the Apps page, you'll be able to quickly add a calendar and your Zoom details.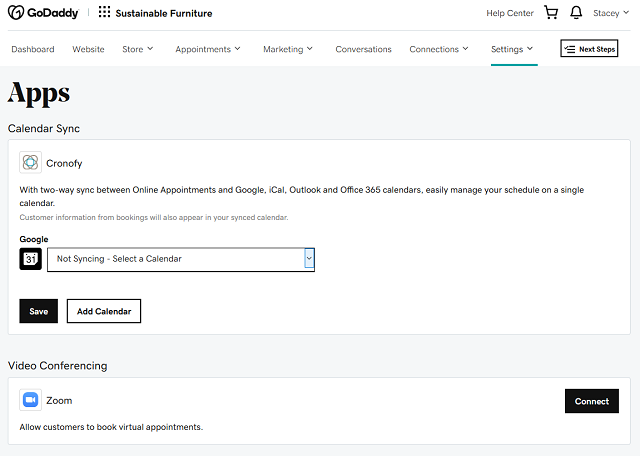 Related: Start using Zoom in 3 steps
Sell on Facebook and Instagram
With the Online Store Builder and Facebook Commerce integration, you can upload your Online Store product catalog to Facebook and keep your inventory synced up consistently.
Once the products are synchronized, you can create shoppable posts on Facebook and Instagram, promote a product or a collection on a Facebook Shop page or create dynamic product ad campaigns, all with a nominal budget to drive sales.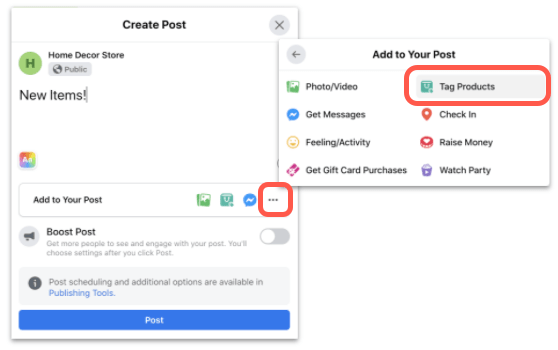 Customers who find your products on Facebook and Instagram in a shoppable post can visit your online store to learn more about the product and complete their purchase.
Seamless integration with Facebook and Instagram Shops
With the Online Store Facebook and Instagram Shops integration, you can easily set up Facebook and Instagram Shops and sync your Online Store product catalog to both.
Shops makes shopping seamless across Facebook and Instagram, increases discoverability and allows you to deliver an enhanced social eCommerce experience to your customers.
Additionally, using the Shops feature in Online Store Builder allows you to easily manage both Facebook and Instagram Shops from within the Marketplaces page, rather than having to log in separately to each service.
To use this feature, you'll need to first connect your Online Store to Facebook and Instagram. Learn how to connect to Facebook first, then Instagram.
Once connected, you'll have the option to click Get Started for both Facebook and Instagram Shops, as shown below.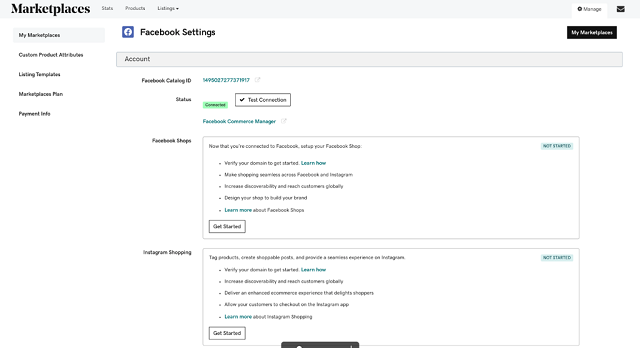 Showcase similar products in your store
Similar products are an excellent way to cross-promote more of your products. To enable this option, you'll want to edit your Online Store page:

Once enabled, you'll need to publish your site in order to see the suggested items section: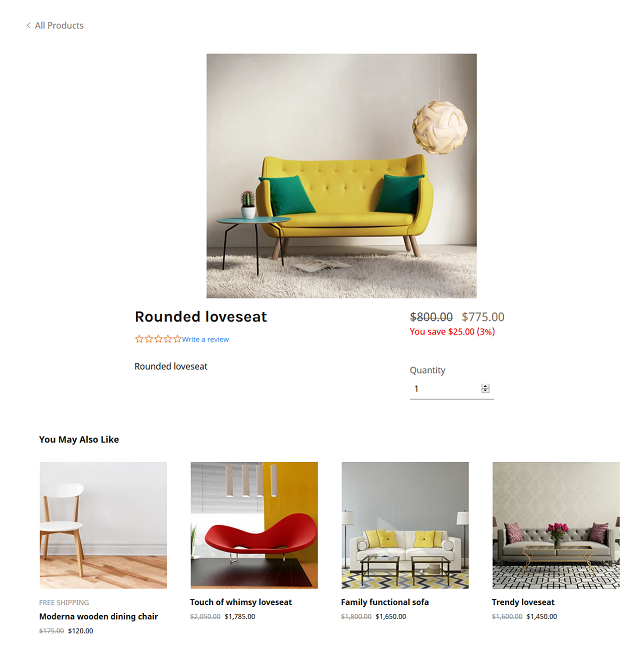 Personalize a message on packing slips and shipment emails
With this new feature, you can easily add a personalized message to your printed packing slips and shipment confirmation emails. Doing so allows you to brand your communications and drive repeat sales.
Beyond adding a personal touch, you can also add a link to review your products or include a unique coupon code to entice customers for repeat purchases.
To use this feature, click on the Fulfill Order button for the completed order you'd like to personalize.

The popup screen that follows will allow you to add a tracking number and personalized message.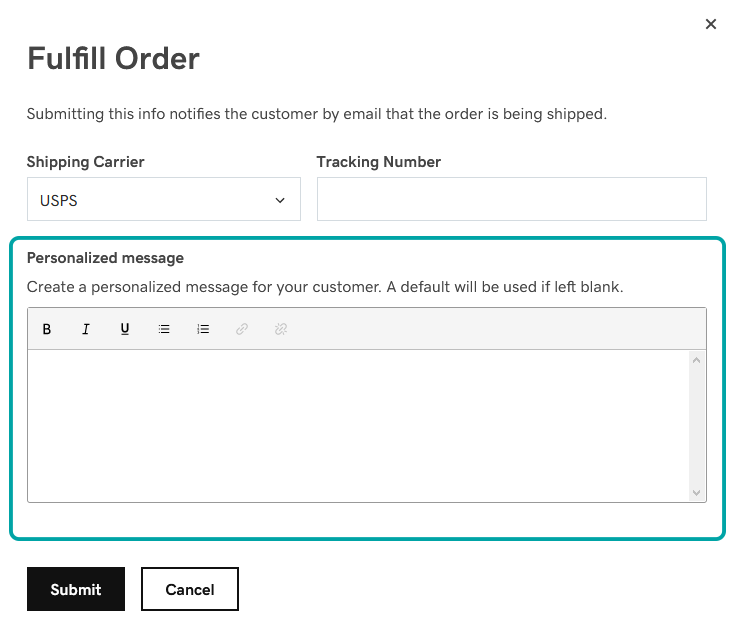 Create coupons for free shipping
Allowing free shipping on your site can help to dramatically increase sales for your business. In fact, 93% of users say that free shipping encourages them to add more items to their cart.
If you'd like to offer free shipping as a targeted coupon, Online Store Builder now allows you to do that.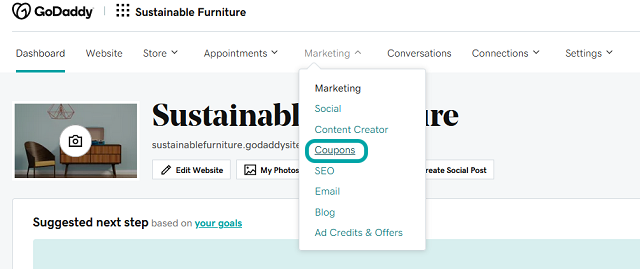 When you select the Free Shipping option, you'll have the ability to set the number of allowed uses for that coupon, minimum order totals, the maximum value for the coupon, and the start/end dates for the coupon.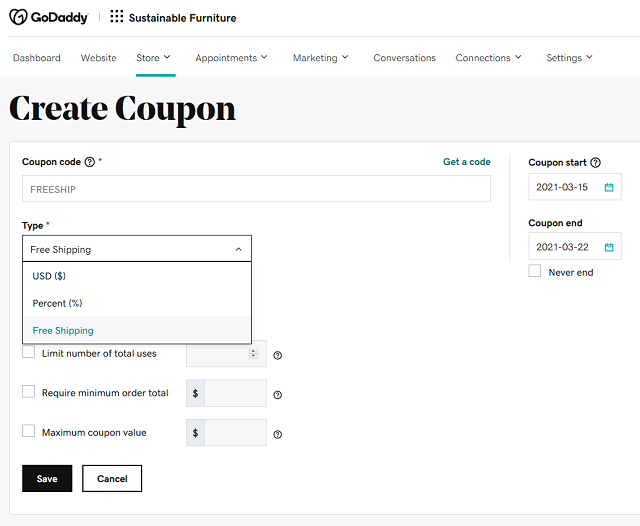 You can view the full set of instructions on our Help Center.
Keep up with Online Store Builder updates
Did this quick list of updated features help? If you'd like to keep an eye on updates as they're added to Online Store Builder, this article will be updated as new features are released.
Ready to get your business eCommerce-ready? GoDaddy's Online Store Builder will help you build a beautiful and functional online store in no time at all.