Finding your email version
We currently have two types of Exchange accounts:
Exchange 2007
Exchange 2010
These two types of accounts work identically with the following exceptions:
You cannot use Microsoft® Entourage with Exchange 2010 accounts. However, instead of Entourage, you can use Outlook® 2011 with your account. For more information, see:
You use different servers to set up your email client, configure Outlook Web Access (OWA), and configure autodiscover.
To Find Your Exchange Version
Log in to your GoDaddy account.
Click Microsoft Hosted Exchange.
Click Manage.
Next to the account you want to use, click Manage.
Click the folder for the Organization holding the email address you want to use.
Your Exchange version displays. Here's an example of both Exchange 2007 and Exchange 2010: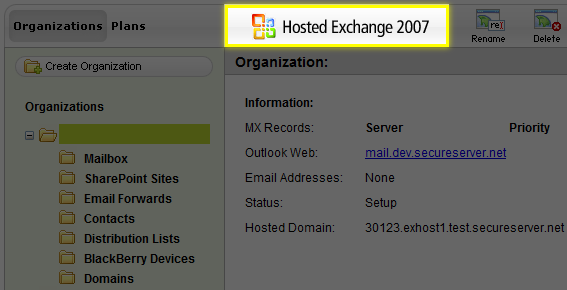 ---